When Your Freedom and Family are at Stake, It's Personal.
Our mission at the Law Office of Odalo J. Ohiku is rooted in never forgetting the client.  As a Marquette lawyer, I am committed to "caring for the whole person." Guided by these core principles, we provide strategic legal representation utilizing a collaborative approach between attorney and client.
Why you should choose the Law Office of Odalo J. Ohiku:
Experience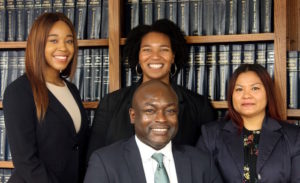 We care, and have a successful track record of delivering results for our clients.  We fight to protect people and their families facing issues in the legal system.  We provide vigorous Criminal Defense of all misdemeanors and felonies.  We research the law and prepare your case to win!  We provide zealous advocacy for people "going through" a Divorce.  We fight to ensure that what you get is fair.  We provide honest assessments and tailored assistance to people in Family Court seeking Child Support,  Custody, Placement, Visitation,  or Modification of an existing Order.
Dignity, Compassion and Respect
At the age of 14, a family member was accused of a crime.  I personally know how stressful this can be.  I also know how difficult divorce is.  This personal experience is ingrained in our mission.  Consequently, we treat you with dignity, compassion and respect.  You will know we are on your side fighting for you.
Communication 
The legal system is extremely stressful, confusing, and unfamiliar to most people.  The unknown can be terrifying.  We strive to alleviate this strain through prompt, straightforward communication and meaningful interaction with our clients.  A top priority is being there for you when you need us.  We are ready to help you 24 hours a day, 7 days a week. We have staff fluent in Spanish and Laotian/Thai.